I know, the story has become an old one, and maybe boring to some of you.. but it still worths posting!
First Time…
So, I didn't have enough time to write about my trip to Amman. I should mention here that this is the first time I get out of Iraq in my whole life, and it's been my first time I get on plane but sure not the last time!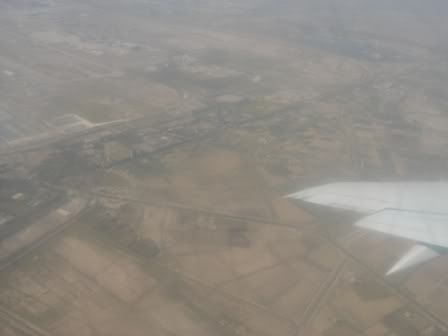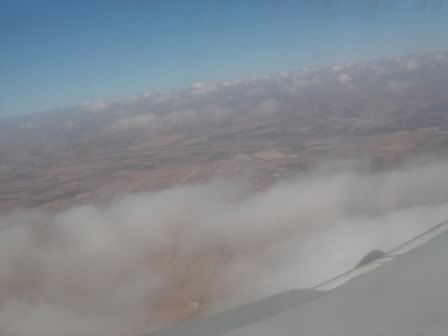 In my first visit to Amman I went to movies for the first time in my life. There used to be many movie theatres in Iraq before the war but I was too young and didn't have that interest in movies. And we all know that those theatres were closed after the war. So far, I watched two movies: Pirates of the Caribbean II with Attawie, Anarki and The Kid, and Superman Returns with Mom and sister. Other movies on DVD were The Da Vinci Code, Pride and Prejudice, Incredible Cruelty, Scary Movie4 and Zathura.

I hated the movie of The Da Vinci Code a lot; it's nothing like the novel and is missing a lot of the information and details in the book. After watching it, Attawie and I decided to reproduce and redirect the movie, change the actors and actresses, put more conversations and action like in the book, and probably turn it into a T.V. show if it gets too long!!

I'm having so much fun here although we're going to almost the same places everyday. I don't feel homesick at all except for missing my father so much for he couldn't come with us to Jordan. I mean, there's nothing to miss there anymore cuz it all reminds me of pain, lack of security, daily agony and the smell of death everywhere in Baghdad. Surely, these are not things to miss anywhere! I miss our old Baghdad though, and there are things that remind me of it here in Amman; the lights of the night down the streets with people walking around here and there. The night breeze of Amman reminds me of the autumn and early spring in Baghdad when we could have our dinners at the restaurants on the Tigris side. Ol' happy days those were that could never come back!



A fourth bloggers meeting took place on Saturday. We were ten this time: Anarki, The Kid, Baghdad Treasure, 24 Steps to Liberty, Zeyad, Nabil, Micho, Attawie and I. the tenth person was Attawie's sister. This time the meeting wasn't at the mall as the previous meetings. One of the bloggers chose a nice café shop and we all agreed on the place and time. Reading their blogs for over a year now I didn't feel that I was meeting them for the first time. It was like meeting old friends and having so much fun with them. Time passed so quickly that we (the girls in the group) had to go back home on sometime. We planned to meet again, but this time to go on a small picnic.
We talked about many things; about blogs, current news and points of views about political issues, about Baghdad and news from home and about our future plans. I think that most of us, if not all, don't want to go back to Iraq. At least for the current time. It's sad to know that educated people are fleeing the country for their lives leaving nothing but destruction and tears back at home, but there's nothing to do about it. We're seeking life somewhere else other than home cuz we've had enough and decided to want to live like other people. It's sad and not easy for me to say this and I don't really want to admit it but that's the hard truth.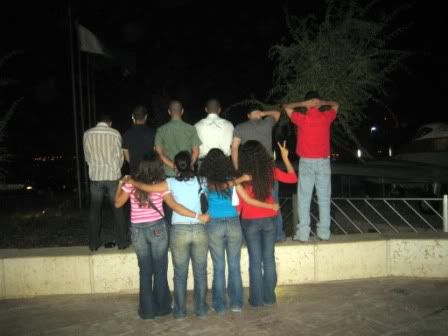 The first bloggers' picnic...
That's what Baghdad Treasure named it, or a chips picnic according to Attawie's description. As much as it was a simple picnic, it was awesome! There were Micho, Attawie and her sister, BT, 24 Steps to Liberty, Anarki and his friend, Zeyad, Nabil and finally me. The Kid didn't come cuz he was having cold. My mother and Attawie's grandma were with us as well. We set the place and time at Al-Hussein Park on Tuesday, 8th of August. We brought chips (Lay's and Mr. Chips), nuts, mini cake roles and Pepsi. Though we didn't eat everything we brought, there's no picnic if there's no food.
We chose a place on the sidewalk as our resting spot and we started talking, singing, eating and laughing out loud. Nabil played guitar for us and we sang songs for Metallica, Hotel California, and other songs. When it came to singing old Iraqi songs, though no-one said it loudly, I looked in the eyes of each and every one of them and saw that they all missed home; the country that once we had! And since we are all fans of F.R.I.E.N.D.S and have seen many many episodes of the show and know their songs and quote them by heart, we sang Phoebe's famous "Smelly Cat" song. Now I know that every time I watch Phoebe singing on that show I'll remember this happy day.
It's ironic that we all live in Baghdad yet never had the courage to think about meeting there! But the chance brought us all to Jordan for different reasons in order to make this happen. I can say that those days were among the happiest days of my life; I had the chance to go out with people and to have new friends whom I can share everything with. And the most important thing was that we all are of almost the same background, have the same interests and strife for living normally like all young people in the world.
Does bad luck accompany Iraqis everywhere??
… Possibly!
Of all days of the week, the Museum at Al Hussein Park closes on Tuesday (the day we went there)! After walking for about half an hour in the humid and chilling weather to the museum, we found a big label says "Museum is closed on Tuesdays". We didn't have the chance to get in there and see the stuff inside, but we didn't want our walk trip to the place to be unfruitful so we took our "back" photo in front of the museum.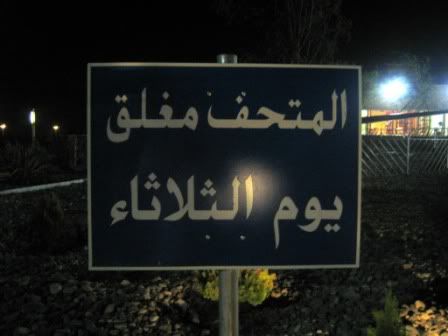 "The Museum is closed on Tuesdays"

Birds of a feather flock together!

Our meetings didn't end this far, and it's still going on till this moment, and every time we all met we planned for a next meeting. The reason is obvious; it was fun to do so, and for me it feels like I know them all for a long time. On Thursday after the picnic day we went to Mecca Mall, walked around the place and got to the arcade center and played table hockey and foosball. We played in teams in which BT and I always lost against the other teams! Well, I admitted to them that was the first time I played those games :P … The photos we took here were so much fun that I keep laughing every time I look at them, but they are not to be posted on the blog! Later on that day, we met I Was There with his family in one of the cafés at the mall.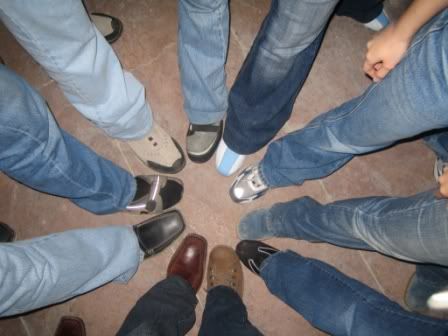 I would call this one.. "Bloggers United"
??!


I didn't go to historical places… I didn't have enough time for that, besides we were told that Iraqis were not accepted in some of those places! However, I went to the Romanian relics which were located inside Amman. There were only me, my Mother and sister. We didn't stay there for a long time cuz the place was rather small and there wasn't that much to see. It's not like the historical places we have in Iraq in which you can spend days looking at wonderful things. Here are some photos we took…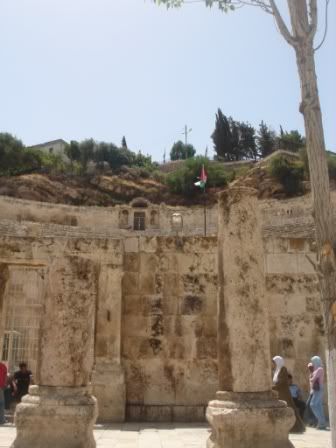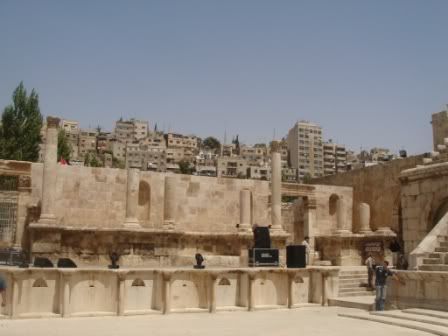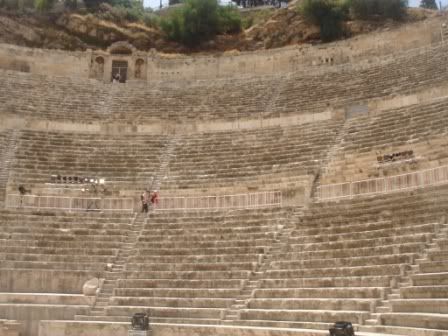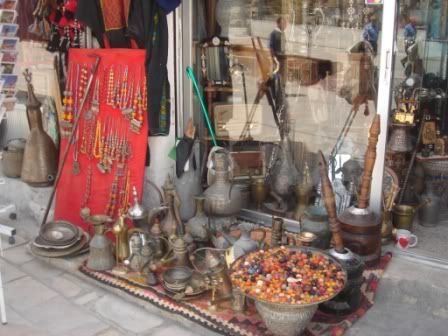 At night of the same day, I met the bloggers for one last time. It was at Bel Mondo café again. We sat there, had coffee, took photos, talked about many things, mostly blogging. Attawie suggested that we all tell the story of our blogs, how we discovered the blogsphere and why we started to write.
The next morning (Sunday), I came back to Baghdad alone, and it's been about two weeks for me in Baghdad now. There was only one day separating me from meeting
Melantrys
, and two days from attending the wedding party of Attawie's sister! The reasons why I had to cut short my vacation I come back home? Can't tell now but rather on the right time!
Bottom line: I had twenty wonderful days in Amman in which I met my closest friend after three years of non-meetings, I went to so many places, I met many new friends and had so much fun with them, and the most important thing, I "practiced" life!
More photos from Jordan...
Amman at night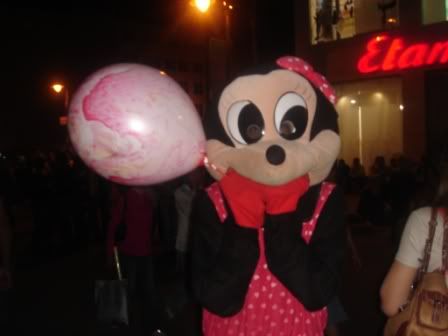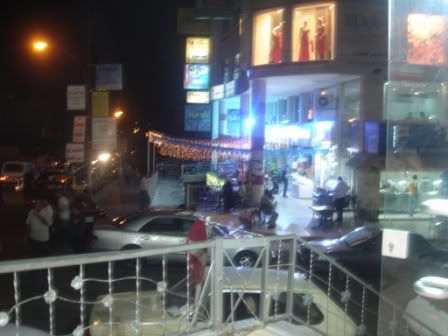 And in the morning..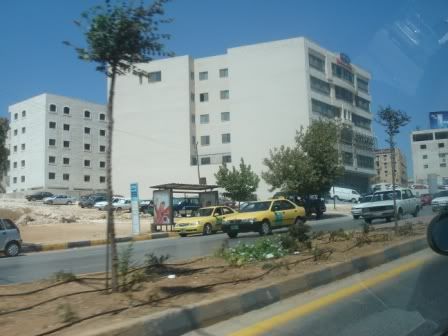 From a museum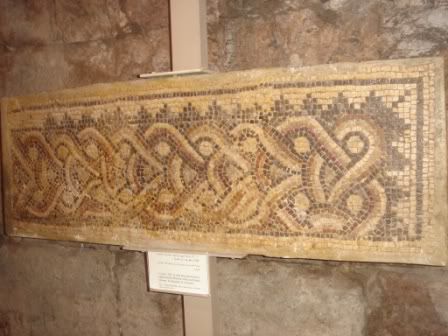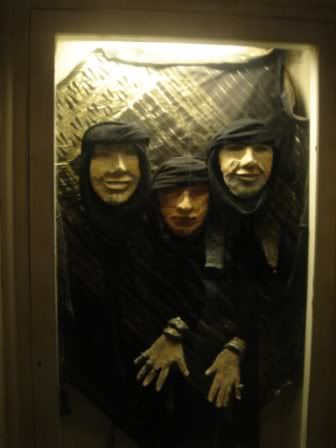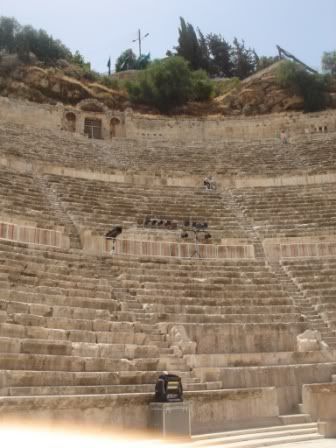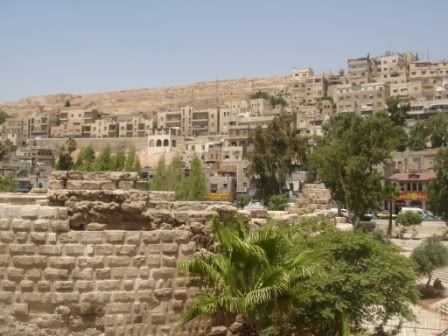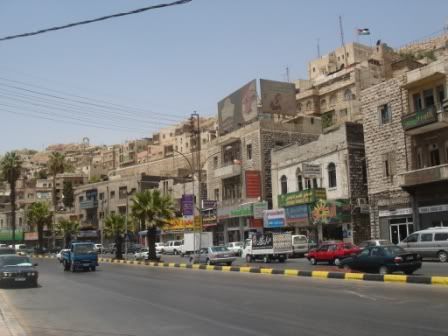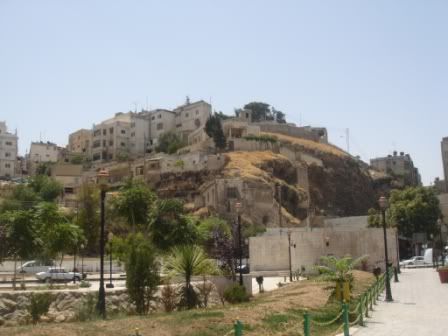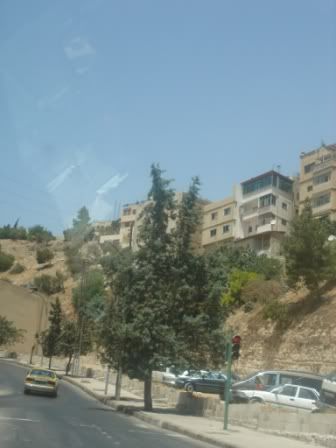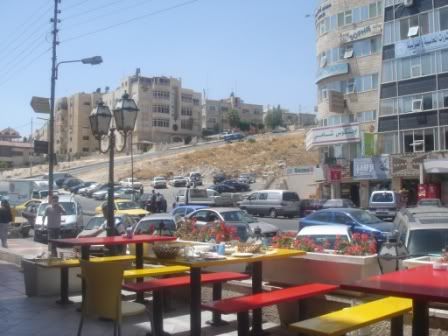 On the way back home to Baghdad...


Down the dangerous airport road in Baghdad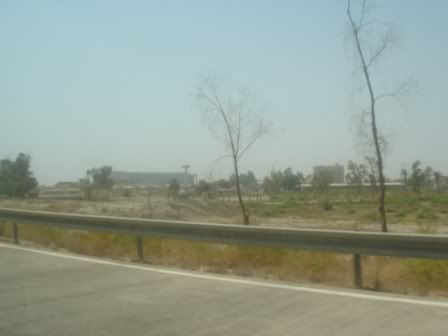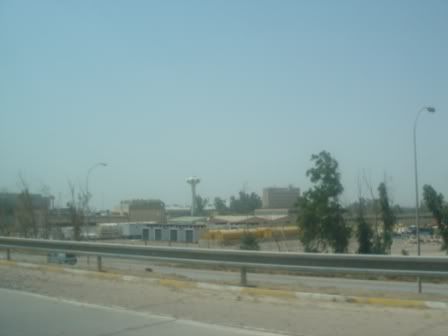 Somewhere in Baghdad where a black rag annoucing the death of a person, a martyr, it says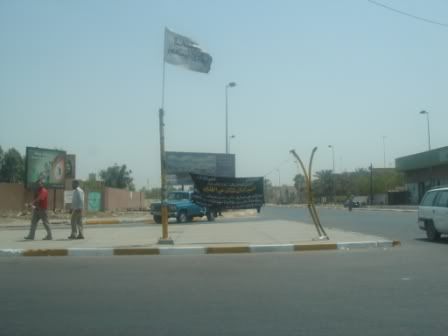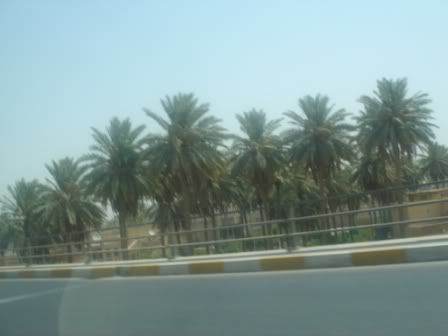 Across the Tigris River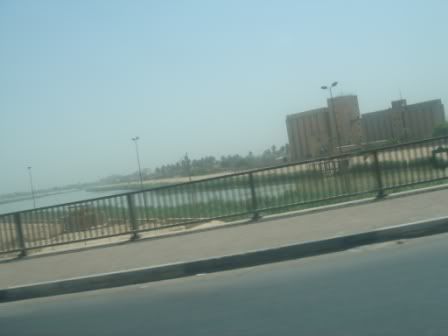 End of the journey! :P