NOTE: This post should have been published before the previous one, but there were problems with uploading the photos.

So i guess it's been more that a week since I last showed any life sign! I've been busy and kinda lazy. Busy going to college for some fun, busy shopping a laptop, digital camera, webcam, bluetooth and a flash disk! (it costed a fourtune!).. and I was also resting my eyes from PC and reading for a while.
Lazy for no reason :P
This is the first post I write from my new DELL laptop ;) oh by the way, the headache is gone at last. I figured out two reason which caused me that headache, but there another important one which I haven't noticed before; it was lack of water!! Yes, I forget to drink water. I'd be good if I could drink more than one glass of water aday!!
Well, I wasn't really sitting idle all the time, in fact I was coloring some pages. Remember those coloring pages we used to color when we were kids? I was doing exactly the same! And everyone at home was laughing at me... i was obsessed with drawing and coloring when i was a little kid, I had my papers, crayons and magic colors with me all the time wherever I went. So I thought of posting new ones here cuz I couldn't find the old ones I used to color. Moving from place to place with my family was a reason that I couldn't keep everything I had.
Some kids believed in crazy yet funny superstitions, and I was one of those kids who believed that the Devil was stealing my stuff!!! I remember one day when I was seven or eight years old, I was in the room with my sister and two of our relatives playing and having fun. One of the two relatives had her Barbie doll with her, and suddenly one of Barbie's shoes got lost somewhere in the room. We started to search on the floor but we couldn't find anything. Then I suddenly got this crazy idea and told them that the Devil stole the shoe! But how can we restore it now? The only idea I had in mind was to punish the devil and let him return the shoe back to us. So we started to jump and beat the floor as hard as we could thinking that the devil was hiding under the floor! And after sometime while we were still beating the ground, we saw Barbie's shoe in the other corner of the room. For me, that was an evidence that devil really took the shoe, we were playing in one corner of the room when the shoe was lost, and we found it in the other corner after we punished the devil for stealing the shoe from us!!!

I also believed that there were some evil souls in our house! I even swore that I saw one in some time at night! One day I was sleeping and I suddenly felt that a hand was tapping on my pillow, I raised my head and looked but there was no hand and no-one else in the room. I was sure that it was one of those evil souls playing jokes with me, and I was scared till death that I couldn't even move and go to Mom! I liked to watch horror movies, and yet after the movie was finished I used to regret watching it cuz it made me scared! I still like watching this kind of movies but I don't regret watching it anymore ;)

Like all the girls in the world, i liked Baribe so much and I had about ten dolls, or maybe more. My sister and I used to make small houses under the bed for them, and we used to give them names, plan for a scene and start playing. Kain was named Marc most of the time!
..............
well, i took a break from typing for some time and decided to watch a movie. Dad got me two DVD's today; one was Chronicles of Narnia, and the other is War of the Worlds. I just finished watching the first one, it's so awesome! I will probably go watch the other movie after i finish typing this.

Talking about movies, there used to be a lot of cartoon movies I liked to watch when I was a little kid. I remember this Russian cartoon called The Wild Swans. The characters were Russains but they were speaking Arabic. The story of the movie goes around eleven brothers living with their one beautiful sister and their father, the king. Their stepmother happened to be a witch and she turned the brothers to wild swans one night, and then turned the sister to an ugly girl. They all wandered in the woods to search for some magical cure to undo the spell of the witch. And sure, peace prevails at the end!

We had this cartoon on tape and my sister and I used to watch it all the time. We even learned most of the dialogue by heart! Other favourite cartoons were Tom And Jerry which I still watch till now J, Morocco, a Chinease cartoon about a little crazy and funny girl. Well I was watching this one when I was at college. And like all the Iraqi kids, I liked Grendizer!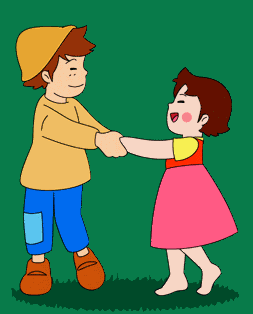 I have a bad habbit of smelling things before I use them!! Well I don't know if I should call it a bad or weird habbit. When I was at college, I found out that one of my friends, F., used to smell things as well, especially food! Whenever we were at the college's cafeteria and wanted to eat something, I was asking her please not to smell the food! At least no in front of all the students. And she was laughing at me saying that I do the same.

For instance, I was just smelling the CD before I put it back in its cover. Well, it has a smell! And it reminded me of the times when my sister, uncle and I used to stay all night playing some playstation games. We didn't have a Playstation at home, so we used to hire one from the vedio games shop in the neighborhood every weekend, and we used to start playing from 10 P.M. till 10 o'clock the next morning! We first were getting pale as the time elapsed, then at the end of the time we all turned green! That wasn't a very long time ago, it happened when I was at high school. I never showed any interest in computers and plastations before that time. I never liked these things! But now sure I do!


While I was having dinner with my family a few days ago, dad asked me to pass the ketchap and sause to him. Then I rememberd that I haven't tried sause with my food for a very long time. When I was a kid I preferred sause to ketchap and mustard, but now I prefer the opposite. The reason for that is because the taste of sause reminds me of the long sanction we had during the 90's! It was hard to find the good products so we had to buy a not very good sause which was made in Iraq. The test wasn't good at all, but we didn't have another choice. My sister and I used to have it with almost all kinds of food.

Back to the night when I was having dinner, I decided to try the sause and asked Dad to pass the bottle for me. as soon as I tried it I laughed and said "sanction taste!"

For the first time, this post took me more than a week to write, and God knows how many days left to publish it! I'm still having problems getting online, so as usual, i'm typing this offline.


Go ahead, laugh at Morbido!